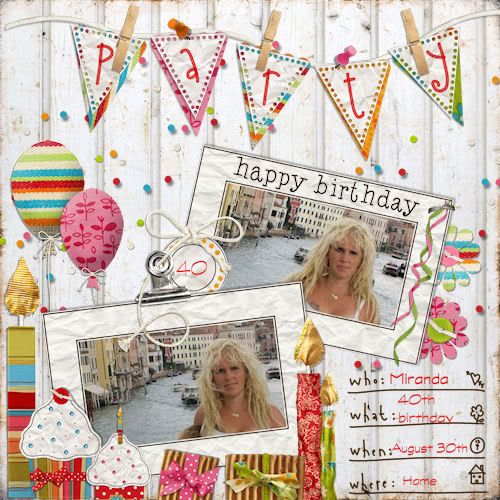 I have so many layouts to share...last week my kids went to my parents and I had sooo much free time to scrap, really enjoyed it eventhough I really missed those little noise-makers!!
The above layout is my birthday invitation...next saturday I celebrate my 40th birthday (oepf...that hurts). Those pictures were taken in Venice, the most romantic place on earth!! I used Gina Marie's 'Delightful collection'..just love that kit!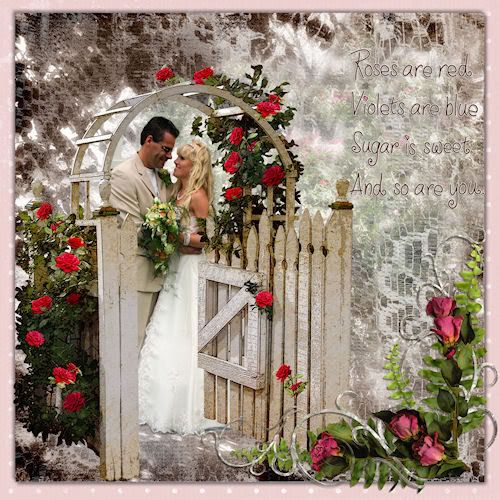 Patricia Christensen at Weeds and Wildflowers made a gorgeous new kit 'Shabby Cottage Rose Garden'..a very romantic kit full of roses (from her own garden!). I made just one layout with it..one of our weddingpicturs..need to make another layout with it soon!!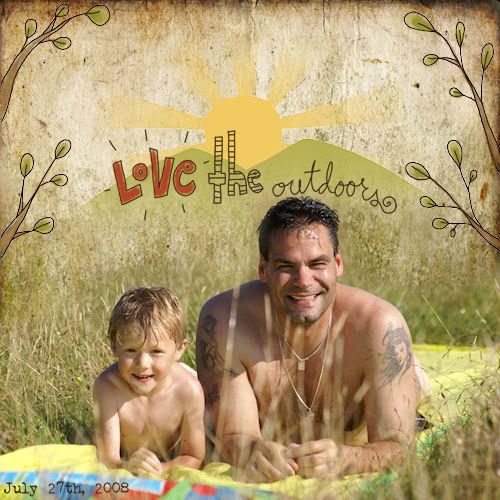 With the new Weeds and Wildflowers collab 'The Great Outdoors' I created above layout. The picture was taken when we were an afternoon at the lake here...one of the only sunny days this summer!! It is a great kit...lots of elements..doodles, flowers, very realistic elements..gorgeous!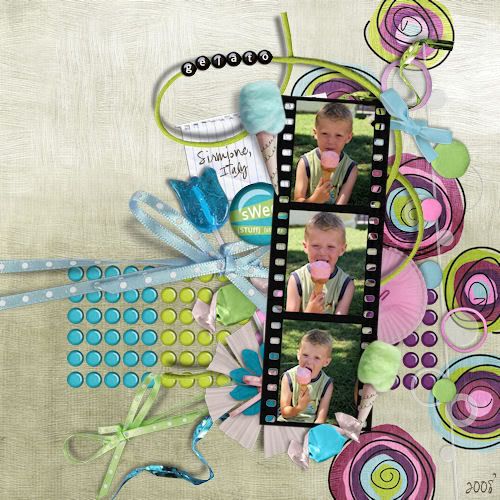 This week I really wanted to use to scrap some non-ct-layouts...mostly I have no time to use these kits...but really loved to work with them last days!
This layout is made with 'Sugar Rush' by Holly Designs at Shabbypickledesigns. You see my youngest eating a huuuuuge ice cream in Italy..and I really had to scrap this ice cream as it was soooooooo expensive..I was in shock when I had to pay..lol!!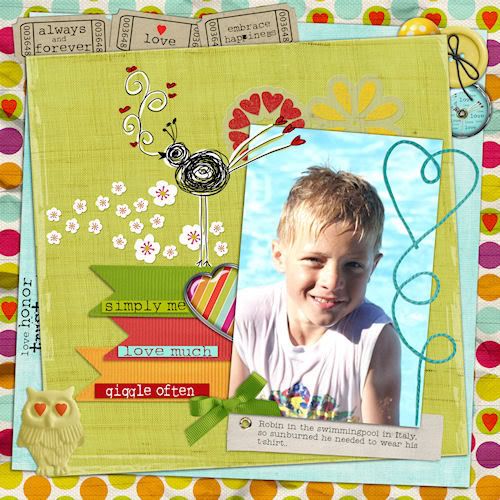 This layout is made with 'Cherry Crush' by Kasia Designs at Shabbypickledesigns. I just lately come at this shop and forum but I really love the designers there....they make great kits....and they are verrry friendly!
I scrapped a picture of my oldest son here...he was in the swimmingpool in Italy but was so sunburned, he needed to wear his shirt in the pool!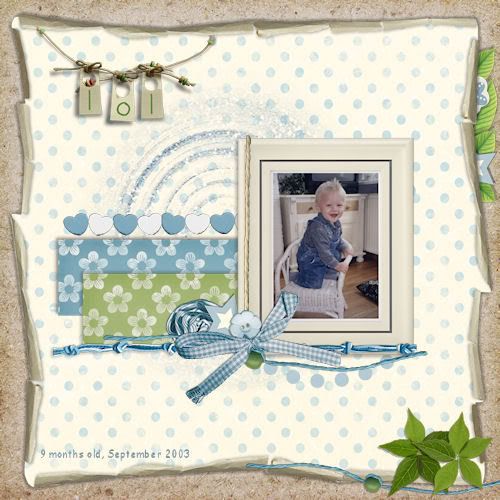 When I was in Italy I received a GC of Jule Designs and bought her lovely kit 'Make me Happy'. I used a picture of my youngest son when he was about 9 months old...he had so much fun while taking this picture!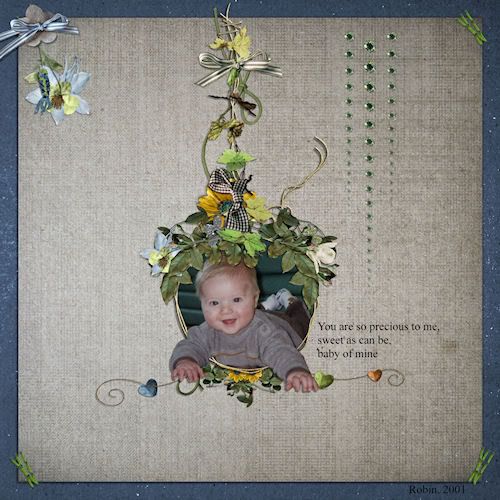 For this layout I used the kit 'Hold me tight' by Cinnamon Designs. I really love Nathy's creations and love to scrap with her kits! I used a picture of my oldest son....yeaaaars ago! Think this layout turned out great...well..I love it!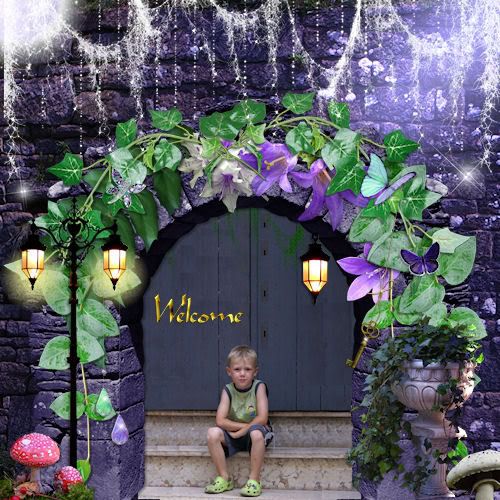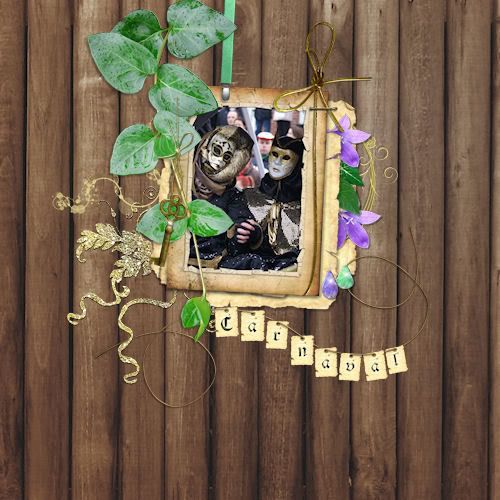 Since last week I am in two new CT's...first is the CT of 'Symphonie'..She is a new French designer and this is her first CT! I scrapped two pages with her great kit 'Midnight in Fairyland'...and you can find a freebie of this kit here.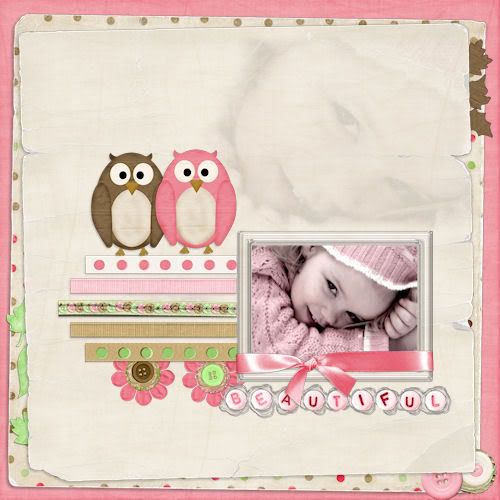 The second CT is for 'Designs by Nikki and Jen'. I used their kits Pink Autumn, Blue Autumn and ABC 1-2-3 all available in there store! You can also find an Autumn freebie here.
I promise I will scrap more often so my posts won't be so long again..lol. Well..life will be back to normal again as the kids will go to school tomorrow...so we have to go to the swimmingclasses, to judo, to bowlinglessons and have schoolfriends over....bye bye summerholidays....
Thanks for reading..have a great day!