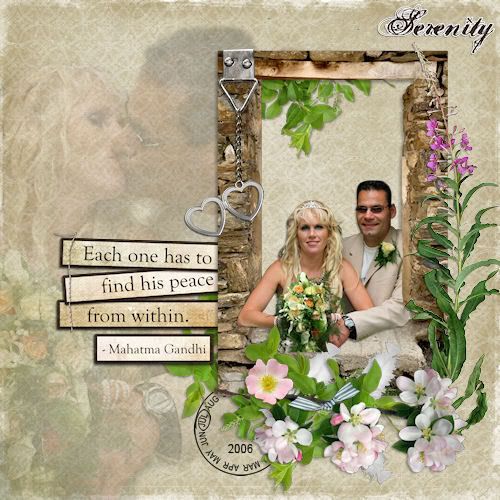 Yeahhh...above layout page is Published in October's Issue of 'Artisan Notebook'. It was published in an item about blendingtechniques. Can't tell you how proud I am to see my page there!!
Since last week I am in Juno Designs'CT..she is Dutch, very talented and fun and I really love her designs. I made above page with her wonderful kit 'Rainbow Punch' which is collab with Valorie Brown.
Jill (of Juno Designs) teamed up with Nikky Scott (I am ct'ing for her too..lol) and they made a great fun kit 'Beyond the Sea'. I used pictures of my son, playing in the swimmingpool during our stay in Italy!
This is my third page for Jill's team and I used her gorgeous kit 'Another Sunny Day'. I thought the colors of the picture really would fit great with the kit but later on they pointed me on the snow and summer flowers..strange combination..but still..love it!
A picture of me with my oldest son...I always loved this picture and finally found a moment to scrap it! I used MK Designs' 'September Grabbag'.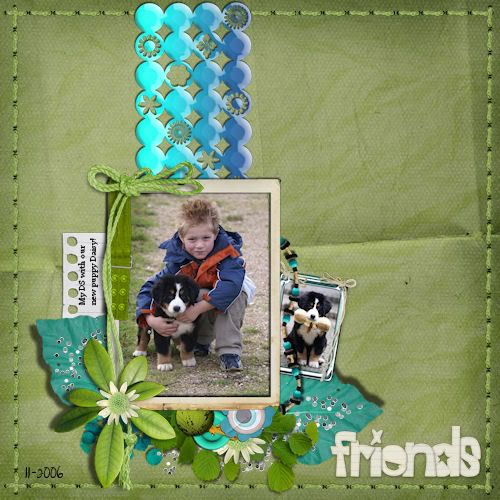 My Guest CT at MK Designs ended and this was the last page I did for her. It is my oldest son and our dog Daisy, just 9 weeks old. I used MK Designs'kit
'Wauff'
for it and love how it turned out! A cool page!! There is also a cute cat in this kit..you should really take a look! And guess what...Marlies is having a huge sales this weekend!!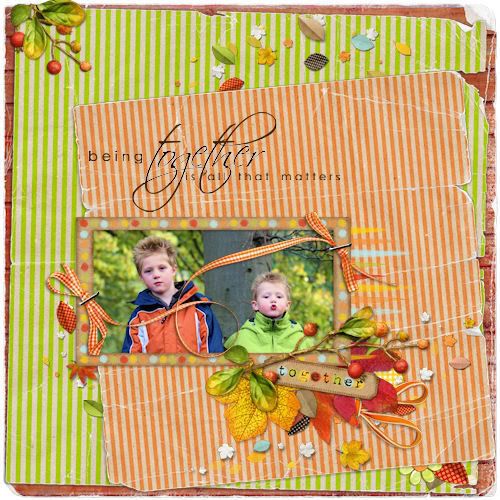 Gina Marie Huff at Weeds and Wildflowers released her wonderfall new kit 'Kickin' Up The Leaves'. It is huge, wonderful, colorful and filled with gorgeous elements and papers! I scrapped a picture of my boys..almost 2 years ago! I just realized that they grow up sooo fast now!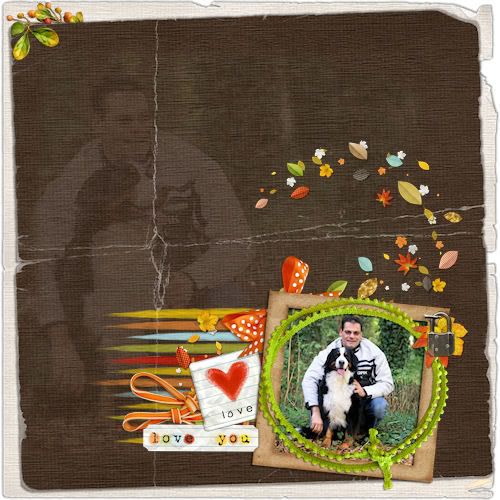 This layout has been made for the '3-things-challenge' I am playing at the W&W-blog. The challenge? Well..create a layout with 2 frames, leaves and some blending..not a big deal..everyone can do that! I used pictures of my hubby with our oldest dog Quincy...don't they look great together!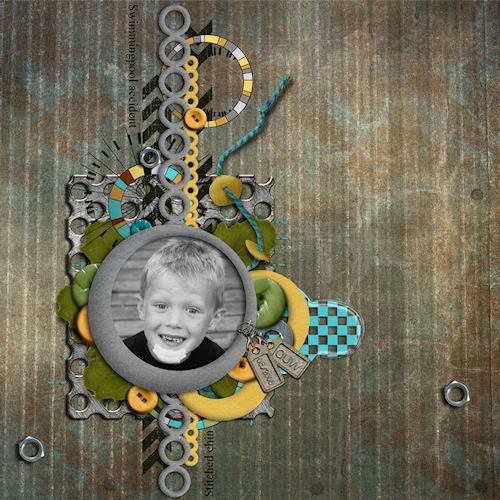 This layout has been made for a scraplift challenge at Shabbypickledesigns. I used Holly Designs new kit 'Portland'. I used a picture of my youngest son. He looks so happy on the picture..can you believe that I took this picture just after we left 'first aid' as he had an accident in the swimmingpool and his chin has been stitched by the gorgeous Italian doctor Alessandro, who might have been a doctor from ER with his looks..lol.
In October I will be Guest at Faith True's CT. I made my first page for her and used 'Belly Pop Pregnancy Collab' by Faith True and Tara Dunstan! During my first pregnancy I only made this picture of my belly, I had totally forgotten to do it before and I had already had contrations as we rushed to take this picture.
For my CT of Nikky Scott I made 2 pages with her kit 'Space Ranger'..it turned out to be real fun layouts! Both layouts are made with pictures of Disney, Paris...we went to 'Buzz Lightyear' over there and did some lasershooting...funnnn!!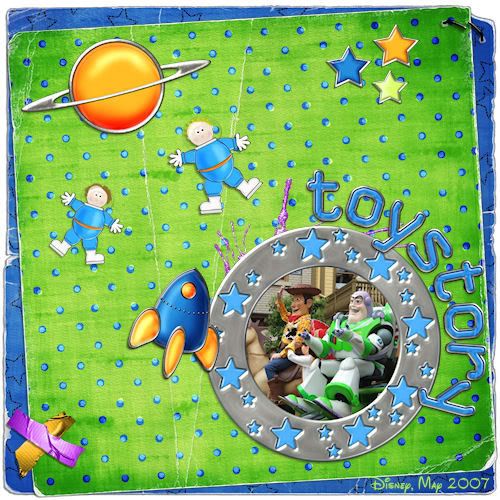 Thanks for looking again..hope you liked my pages and hope to show you many more next time!!