This week I planned to scrap just for fun..well..scrapping is always fun but I mean..no designing, no CT work but just scrap those kits that I once bought but never had time to use. For inspiration I played several challenges at After Five Designs and Shabby Pickle Designs and that was great (and I earned some Gift Certificates with it which is great too). I will show you my pages of this week and will end with a few birthday-pages I did (for fun..lol).
There is a little story behind this kit. When it was released, last week, my friend Anja and me...we woke up at 5.00/5.30 to keep our eyes opened on Lily's blog. At release date she gives a few coupon codes for the first 5 girls to get the kit for free..and this time..we wanted to have luck too...but...it took hours for the kit came up in the shoppe and by that time, other girls used the coupons for other kits of Lily (what of course was not meant to be done)..so...after waiting for about 7 hours..lol...I bought it..but...hey..I was the first to buy ;) and later this page made it to GSO (Gallery Stand Out)
Kit: Summertime Cafe, Alpha: I love cookies..both by Lily Designs at A5D.
I made this page for a recipe challenge at A5D.
Kit: Boys Retreat, Alpha: Sewn Oldies, Heartframe: Bisou Bisou kit all by Catherine Designs, Alpha 'R': By the Sea collab between Lily Designs and Catherine Designs, Stitches: Scruffy Stitches by Amy Hutchinson
This layout is done for the Gherkin Hues challenge at SPD...make a monochrome color layout.
Kit: Joshi + The Kitchen both by MK Designs
This page is made for a scraplift challenge at SPD where I lifted Hanzana's page 'Ája'.
Kit"Teaparty in the Sky by Kasia Designs
This layout is made for the template challenge at A5D.
Kit: Earth Kit by Kristen Rice/K-studio, some presets vol. 5 by Choukette
This layout is made for the Pickle Phont (font) challenge at SPD.
Kit: Sail me to the Moon by Kasia Designs, font: Hawaii lover
This layout is made for the August Mixer Challenge at A5D, scrap a picture of your pet..no problem here...
Kit: Amarantine by Kristen Rice/K-studio
This layout is done for the 'on the house'- freebie-challenge at A5D.
Kit: Freebie Cute-a-tude by Cinnamon Designs, some presets by Choukette.
No challenge for this layout..just only fun..pictures of my in Italy, June 2009.
Kit: Sweet Escape, the DAM-kit by Holly Designs, Mask: J-café
For this page I used 'Birthday Wishes' by Jofia Defoe at SPD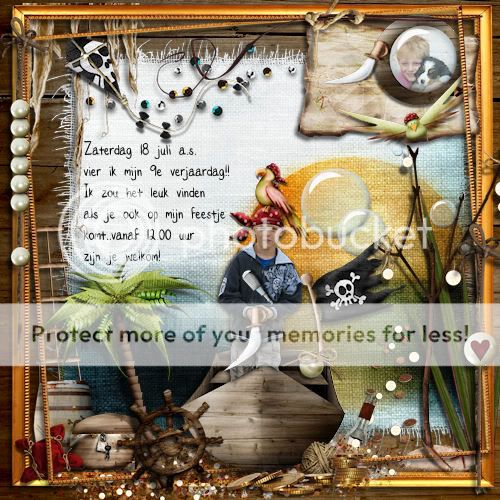 This is the invitation for my son's birthday party, July 19th.
Kit: Little Pirate by MK Designs at SPD.
That is it for today :) Hope you liked it!!